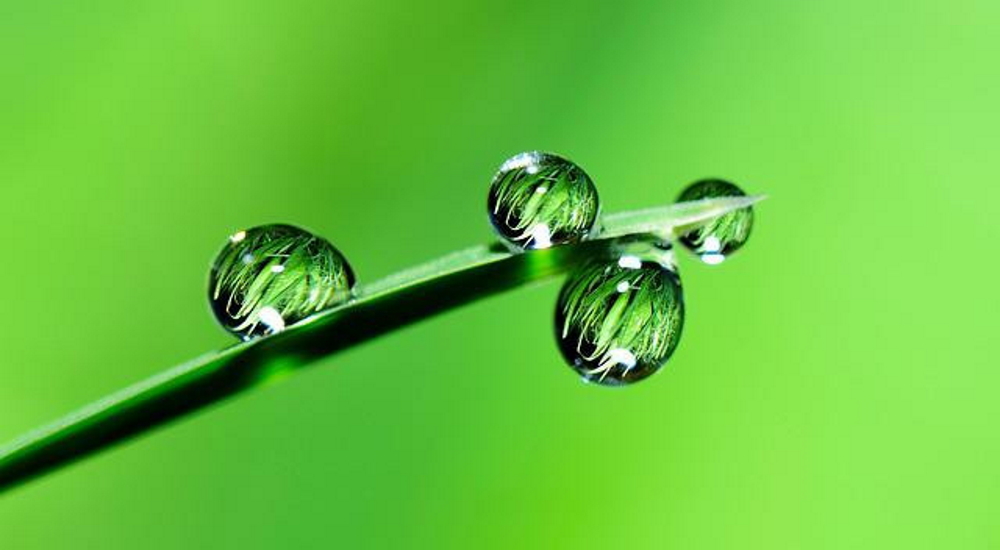 Hello, Cat Enthusiasts!
Today I'd like to talk about amazing benefits of indoor grass for cats and their parents.
Health Benefits of Grass
Cats need to eat plants to maintain a healthy digestive system, correct mild nutritional deficiencies and prevent chronic diseases. Typically, plant foods for cats come in a form of grass. Grass is a tasty snack and a perfect food supplement for cats as it contains a combination of fiber, phytonutrients, vitamins, minerals and essential compounds.
Helps to Manage Water Balance
Water is the most important nutrient for every living organism. Nevertheless, cats often avoid drinking water for different reasons, mostly because they naturally receive water by eating small animals.
Dehydration in cats is a common problem these days because many cats consume dry food (which contains only about 10% of water). Chronic dehydration increases the risk of developing diseases, such as urolithiasis and chronic kidney disease.
Grass provides a great additional source of water for cats as it contains about 83 per cent of water.
Corrects Nutritional Deficiencies
Poor diet, gastrointestinal disorders, diseases and environmental factors¹ can cause nutritional deficiencies in cats, which result in a variety of health disorders.
Grass helps cats to correct mild dietary deficiencies as it provides a number of micronutrients, such as vitamins (A, C, D, E, K, B-complex), minerals (calcium, magnesium, selenium, iron, zinc) and amino acids, including essential ones.
Lipids in grasses contain a high proportion of polyunsaturated fatty acids (PUFA). These are the 'good' fatty acids, better known as Omega-3 and Omega-9, which have positive health effects².
Supports Digestion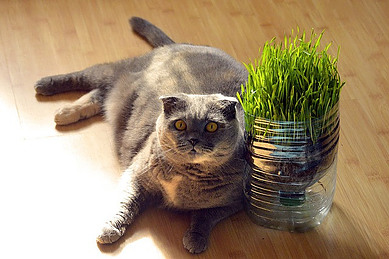 Grass contains large amounts of magnesium, which is essential for digestion. It plays role in the production of digestive enzymes and stomach acid. Magnesium is important for muscle contraction (including heart and bowel muscles) and maintaining strong immune system (a large proportion of which is located in the gastrointestinal tract). Magnesium relieves indigestion, occasional constipation and helps to prevent obesity.
Grass also contains rough fiber which helps to remove hairballs and other indigestible parts from cats' bodies.
Removes Parasites
The research³ suggests that cats eat grass instinctively to remove intestinal parasites (adult worms) and maintain lower parasite load. This theory is based on studies of wild carnivores who intentionally consumed grass to purge parasites. Worms wrap around grass blades and get trapped. In addition, fibrous plant material increases activity of gastrointestinal muscles.
It is uncommon for indoor cats to be infested with intestinal parasites as modern preventive products are available. However, the instinct remains, and cats widely use grass to clean their systems and improve digestion.
Improves Skin and Coat
Essential omega fatty acids, vitamins A, D, E, B7 (biotin) and zinc found in grass juice are important to maintain the health of skin, coat and sweat glands. Fatty acids, vitamins B group and E stimulate hair growth, vitamin A maintains healthy skin, sweat glands and improves skin immunity. Vitamin D protects the skin from inflammation and dryness and supports the function of hair follicles.
Helps to Prevent and Treat Diseases
Grass is a rich source of nutrients which help to detoxify the body, improve the immune system and regulate numerous processes in tissues. Thus, eating grass helps cats to prevent and manage various diseases by improving their ability to heal themselves.
Many nutrients (e.g. selenium, zinc, vitamins C and E) work as powerful antioxidants – they protect cells from damage, prevent fatty acids from oxidation and help to repair DNA. Antioxidants help to prevent heart diseases, vision loss, nervous system disorders and many other chronic diseases.
Some nutrients are essential for regulation of body systems. In particular, vitamin D plays an important role in maintaining health of thyroid gland⁴ and preventing thyroid diseases.
In addition, grass juice contains chlorophyll, a green pigment, which has a similar to hemoglobin structure and provides many health benefits, including prevention and treatment of cancer⁵.
Deters Cats from Eating Houseplants
Indoor grass not only helps to improve your cat's health but also distracts it from eating houseplants.
One of the most common reasons why cats eat houseplants is that they don't have their own grass. As mentioned above, eating grass is a normal behaviour for all carnivores. So, if there isn't any plants grown specifically for the cat, it will likely start eating the houseplants, many of which are toxic to cats.
Promotes Longevity
Eating grass regularly helps cats to reduce stress, heal themselves and ultimately live healthy, happy and long life. Grass juice also helps to reduce oxidative stress as it contains numerous antioxidants and enzymes, including SODs – anti-inflammatory and anti-aging agents⁶.
What Types of Grass are Safe for Cats?
Cat grass (cereal grasses: wheat, rye, barley, oat)
orchard grass (cat grass, cock's-foot, Dactylis glomerata)
bamboo (only Bambusoideae species of bamboo)
Grass Brings Happiness
To be happy and live a full life, cats need to interact with nature at some level, especially indoor cats who live their entire life in the house. The vast majority of cats enjoy the smell, taste and texture of grass. Also, cats are very tactile creatures and love to sleep or play in grass beds – large trays of grass. Grass stimulates hunting instincts and reduces stress in cats as it's a part of their natural environment. Indoor grass lounge is perfect but even a small tray or pot of grass is enough to improve their mood and let them feel closer to nature.
Home Decor
Grass not only provides a lot of health benefits for our cats but also helps us to recharge from stress and offers endless opportunities to decorate our homes. Indoor grass plants look simple and unusual, add fresh and elegant touch to any room and bring a soothing and peaceful atmosphere.
Grass makes perfect plant for beginners as well as for plant enthusiasts as it's easy to grow from seeds, there are many ways to grow grass, many types of grass which require different levels of care and a variety of planters to play around with. Grass looks unexpected in every planter but you can even go for more and create your own one. It's always exciting to experiment with different species of grass, planters and locations. Just make sure you use non-toxic to cats types of grass and place the planters within reach of your cat.
Final Thoughts
Growing grass indoors is a simple and inexpensive way to add a healthy natural supplement to your cat's diet, enrich its life, decorate your living space and improve your mood. Indoor grass plants are perfect for cold seasons and for cats who never go outside. Grass can't be replaced by other supplements as both grass fiber and grass juice are important for healthy digestion.
If you have something to add or wish to share your experience, please leave a comment.
Thank You For Reading!
Sources
¹https://www.petmd.com/cat/nutrition/evr_ct_environmental_impacts_on_your_cats_nutrition
²https://germinal.co.uk/knowledge-hub/grass-nutritional-value-guide/
³Hart, B.L.; Hart, L.A.; Thigpen, A.P.; Willits, N.H. Characteristics of Plant Eating in Domestic Cats. Animals 2021, 11, 1853. https://doi.org/10.3390/ani11071853
⁴https://www.ncbi.nlm.nih.gov/pmc/articles/PMC5618598/
⁵https://europepmc.org/article/PMC/2404114
⁶https://www.ncbi.nlm.nih.gov/pmc/articles/PMC5969776/